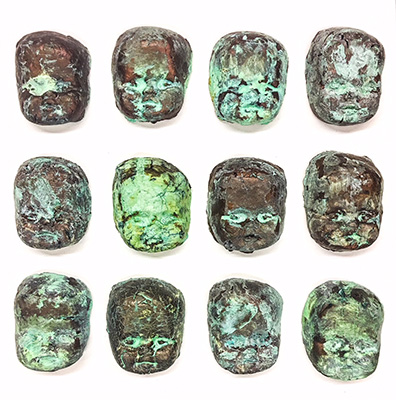 In, On & Of Paper
Showed: January 18 – March 9th, 2019
Bentley Gallery featured 22 artists who recalibrate the limits of the traditional paper surface, breaking boundaries and challenging preconceived notions of materiality.
Exhibitions From Previous Years
A
Gustavo Acosta, Temporary Current, 2008
Affordable Housing: Designing an American Asset (in conjunction with Stardust Center for Affordable Housing and the National Building Museum), 2003
John Alexander, Oil Paintings, 2001; New Paintings, 2004
Anagama: Ceramic Works, Dan Anderson, Chris Gustin, John Hopkins, Matt Long, Don Reitz, Mat Rude, 2013
Michael Anderson, Rewind, 2003
Charles Arnoldi, New Works, 2007
Art 21: Art in the 21st Century (in conjunction with PBS), Laylah Ali, Eleanor Antin, Ida Applebroog, Cai Guo-Qiang, Ellen Gallagher, Ann Hamilton, Arturo Herrera, Oliver Herring, Roni Horn, Mike Kelley, Louise Bourgeois, Josiah McElheny, Matthew Ritchie, Susan Rothenberg, Jessica Stockholder, Hiroshi Sugimoto, Richard Tuttle, Fred Wilson, Kara Walker, Krzysztof Wodiczko, 2006
Au Courant, Rocio Rodriguez, Michael Todd, Laura Bell, Richard Erlich, Patrick McFarlin, Jill Moser, Jerome Powers, Robert Brady, James Marshall, John Rose, Walter Marton and Paloma Munoz, Charles Arnoldi, Robert Flynn, Nellie King Solomon, Zoe Hersey, 2008
---
B
Tom Baril, New Photographs, 2008

Bill Barrett, Monumental Sculpture from the Lexeme Series, 2007
Jennifer Bartlett, Retrospective: Paintings & Sculpture, 2005
Mary Bates, Bronze Sculpture, 2000; Bronze Works of Art, 2001; Data Streams, 2002
Tim Bavington, New Works, 2014
Bentley Projects Grand Opening Exhibition, Jim Dine, Julian Schnabel, Jennifer Bartlett, Frank Stella, Robert Longo, Pat Steir, Dominique Blain, Vernon Fisher, Donald Sultan, John Chamberlain, Chuck Close, Deborah Butterfield, Louise Nevelson, 2004
Jose Bedia, 2008
Will Berry, Paintings & Monotypes, 2003; The Pull of the Air, 2007
John Beerman, 1999
Dominique Blain, Social & Political History, 2000; New Works, 2005
Daniel Brice, California Paintings, 2012
Thomas Brummett, 2007
---
C
Sara Carlson, New Works, 1998; C-Print Photographs from the Satisfaction Series, 2001
Sir Anthony Caro, The Kenwood Series (in conjunction with the artist, Garth Clark Gallery, and Scripps College), 2005
Simon Casson, New Paintings, 1998; Epitome, 1999; Greek Goddesses, 2000; New Paintings, 2001; Aphrodite's Ceinture, 2005; Catalogue of the Iliad, 2007; Thesmophoria, 2008
Dale Chihuly, Chandeliers & Other Forms, 2005
Diana Clauss, New Works, 2000; New Paintings, 2006
Chuck Close, 2004
Configuration: Exploring Contemporary Interpretations of the Human Figure, Joe Biel, Collin Chilag, Carol Es, 2005
Cora Cohen, New Paintings, 1998; Space, 2002; New Paintings, 2005
Contemporary Narratives: Radcliffe Bailey, Simon Casson, Lawrence Gipe, Maverick Gonzales, Julie Heffernan, John Walker, Carrie Mae Weems, 2002
Cose Naturali: Italian Still Lifes from the 17th & 18th Centuries, 2004
Catherine Courtenaye, Modern Calligraphy, 2005; Recent Paintings, 2008
Kris Cox, MKMFSC, 1998; Concentric Episodes, 2002; Grids, 2006
Petah Coyne, Silver Gelatin Prints & Site-specific Installation, 2001
The Cultural Desert (In conjunction with the Mayo Clinic Scottsdale, SMoCA – the Scottsdale Museum of Contemporary Art), John Buck, Alexander Calder, Jim Dine, Barbara Hepworth, Robert Longo, Louise Nevelson, Dennis Oppenheim, Lucas Samaras, Joel Shapiro, Frank Stella, Lynda Benglis, John Chamberlain, Vernon Fisher, Dan Flavin, Mel Kendrick, Maya Lin, Richard Long, Louise Nevelson, Claes Oldenburg, James Turrell, 2002
---
D
Michael David, New Paintings, 1997; New Encaustic Paintings, 1999; New Works, 2002; Recent Painting, 2010: New Paintings, 2004
Woods Davy, Canto Rodato, 2005; Cantamar, 2006; Western Zen, 2012
Tony de los Reyes, New Paintings, 2000
Louis DeMayo, American Landscapes, 2010
Jim Dine, Monuments to the Human Condition, Sculpture + Paintings, 2001; New Sculpture & Paintings, 2002

Pete Deise, Mechanisms of Life Unwinding, 2010
---
E
Michael Eastman, Cuba, Havana Interiors, 2003; Horses; 2005; America, 2005; Grandeur Lost, 2006
Angela Ellsworth, Swag, 2004
---
F
Herbert Ferber, Paintings, (in conjunction with the Estate of Herbert Ferber and Knoedler & Company), 2000
Helen Frankenthaler, Paintings, 1998
Lee Friedlander, 1996
Vernon Fisher, 2001
---
G
Lawrence Gipe, New Paintings, 2006
Jimi Gleason, New Paintings, 2011
Gold Rush: Contemporary Art that Shifts Cultural Associations with the World's Most Treasured Metal, Lita Albuquerque, Olga de Amaral, Will Berry, Angelo Filomeno, Lawrence Fodor, Makoto Fujimura, Jimi Gleason, Martin Cary Horowitz, Jun Kaneko, Robert Kushner, Nancy Lorenz, Alonso Mateo, Eric Orr, Luis Gonzalez Palma, Andrew Schoultz, 2013
Adolph Gottlieb, Paintings 1938 – 1973 (in conjunction with the Adolph and Esther Gottlieb Foundation and Knoedler Gallery), 1999

John Graham, Small Drawings, 1945-1960, 2005
---
H
Keith Haring, Selected Works, 2009
Bernd Haussmann, Paintings, 2005, New Paintings, 2007
James Havard, New Paintings & Collages, 2004; Paintings, 2005
Heaven and Earth: Rare Chinese Jade Bi Discs and Cong Cylinders from the Neolithic Period, 2007
Willy Heeks, Intuitions: New Paintings, 2008
Julie Heffernan, 2002
Zoe Hersey, New Works, 2006
---
I
Cynthia Innis, Tipping Point, 2007
---
K
Cristina Kahlo, Sea of the Unseen, 2009
Jun Kaneko, New Ceramic Sculptures, 1998; New Sculptures, 2001; Madame Butterfly, 2005; Memorable Selections, 2007; Dangos, Heads, Paintings, 2012; Black & White, 2014
Robert Kelly, New Works, 1997; Nocturne Series, 2002; Paintings, 2005; New Works, 2006
David Kessler, New Landscapes, 2004; American Landscapes, 2005; New Paintings on Aluminum, 2007
Gary Komarin, I Could Hear the Wilderness Listen, 2003
---
L
Gary Lang, New Paintings, 2005
Terrence La Noue, Retrospective, 2004; New Paintings, 2011
Ah Leon, Ceramics, 2010
Angela Lim, Embroidered Works, 2001
Robert Longo, Retrospective, 2005
Rogelio "Gory" Lopez, American Fictions, 2009
---
M
Materia, Carrie Seid, Michael Bauermeister, Dale Chihuly, Michael Kessler, Matt Moulthrop, Philip Moulthrop, Kevin Irvin, John Nelson, Mark Rediske, John Rose, Bobby Silverman, Nancy Sansom Reynolds, Don West, 2004
Walter Martin & Paloma Muñoz, Snow Globes & Large Format Photographs, 2008
Alonso Mateo, Illusion & Fantasy, 2008
Ryan Mitchell, Altered Narratives in Stoneware & Porcelain, 2010
Jill Moser, Naming Game, 2006
Kathy Moss, New Paintings, 2007
Forest Moses, 2004
Philip & Matt Moulthrop, Annually, 1999-present
Martin Mull, New Works, 1996; Detours & Destinations, 1997; New Works, 1998; New Works, 2001; Works on Paper, 2003

Marcia Myers, Frescoes, 2005
---
N
John Nelson, Vacancy, 2005; Flower, 2006
New Works by Jennifer Bartlett, Vernon Fisher, and Martin Mull, 1996
New Works: William Christenberry, Axel Hütte, Andres Serrano, 1996
NeoChroma: A Contemporary Survey of the Use of Brilliant Color as Emphasis in Abstract Painting, Tim Bavington, Ali Smith, Daniel Brice, Oliver Arms, Jill Moser, Feodor Voronov, 2013
---
O
Tom Ortega, New Works, 1997, 2001, 2002
Shigeru Oyatani, New Paintings, 2002; Encaustic Works, 2004
---
P
Patti Parsons, New Works, 2004; Paintings on Aluminum, 2006
Ruth Pastine, Numinous Duochrome, 2000; Expedition Yellow Violet, 1999
Sammy Peters, New Paintings, 2006; Silent Metronome Series, 2008

Mark Pomilio, Natural Order, 2013
---
Q
Harvey Quaytman, 1998
---
R
Laurie Reid, Large Scale Watercolors, 2005
Don Reitz, A Life in Clay, 2011; New Ceramic Works, 2013
Mark Rediske, New Paintings, 2007
Otto Rigan, New Sculpture, 1999, 2000
Klaus Rinke, Extra Time, 2009
John Rose, Continuity, 2007
Judith Rothschild, Works from 1943-1992, 2001
Hector Ruiz, The Standard, 2006; New Sculptures, 2007; L'art m'emmerde j'ai participle 'a cette expo, 2008; colLABORation (with DOSE) 2009
---
S
Carrie Seid, Silk & Copper Paintings, 2006; Emergent Features II, 2008
Richard Serra, 7 Years of Graphics, 2007
Bobby Silverman, New Ceramic Paintings, 2004
Thomas Skomski, No Better Place, 2010
Small Works, Catherine Courtenaye, Rachel Darnell, Lawrence Fodor, Colette Hosner, Jun Kaneko, Louis de Mayo, Bobby Silverman, Jeremy Thomas, Ellen Wagener, Denise Yaghmourian, Hiro Yokose, Lucinda Young, 2010
Joe Willie Smith, Found Objects, 2006
John Sonsini, New Paintings, 2013
Devorah Sperber, Selections from The Eye of the Artist: The Work of Devorah Sperber, 2007
Pat Steir, New Paintings, 1998; Waterfall Paintings, 2005; New Paintings & Site-Specific Installation, 2008
Peter Stainfield, Electrified Installations, 2005
Signals, Matt Baumgartner, Diana Clauss, Tom Ortega, Ruth Pastine, Otto Rigan, Steve Rodin, Hiro Yokose, 2002
---
T
Jeremy Thomas, Camber, 2013; Bursting at the Seams, 2015
Thomas Tuberty, Steel Furniture, 2004
---
W
Works on Paper, William Anastasi, Daniel Brice, Fernando Diaz, Jun Kaneko, Michael Marlowe, Udo Noger, Mark Pomilio, Travis Rice, George Thiewes, 2019
Jim Waid, Threshold, 2014
Ellen Wagener, Terrain, 2004; The Cultivated Desert, 2005; Wild Edges, 2006; Eden's Edge, 2008
Tom Waldron, New Sculpture, 2000; New Works, 2008
Andy Warhol, Selected Works by Andy Warhol, 2001
Emmi Whitehorse, Nature Takes a Leap, 1993; New Paintings, 2006
---
Y
Hiro Yokose, New Works, 1991; Works in Wax, 1997; New Large Landscapes, 1998; New Encaustic Paintings, 1998; Small Encaustic Paintings, 2000; New Paintings, 2001; Portraits, 2002, New Paintings, 2004; One Hundred Landscapes, 2007
Andrew Young, Collages, 2003
Please note: We respect your privacy and we will never sell, rent, lease or give away your information to any third party.

Subscribe To Our Newsletter
Receive the latest artist and exhibition news from Bentley Gallery.