by Alonso Mateo on view July 2nd – July 31st, 2019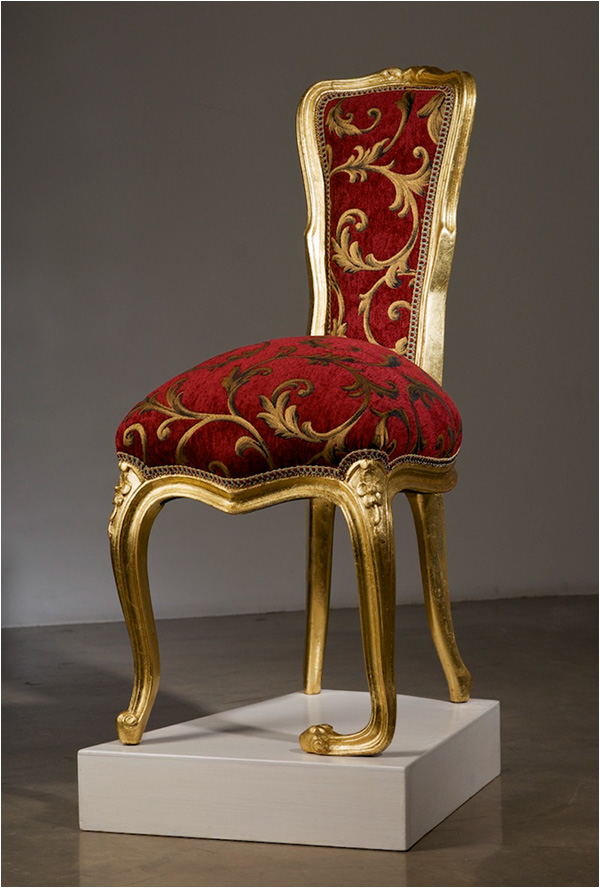 Alonso Mateo
Silla con un Pie Equino
2007
gilded wood and fabric
32.25 x 14 x 20″
Each chair available separately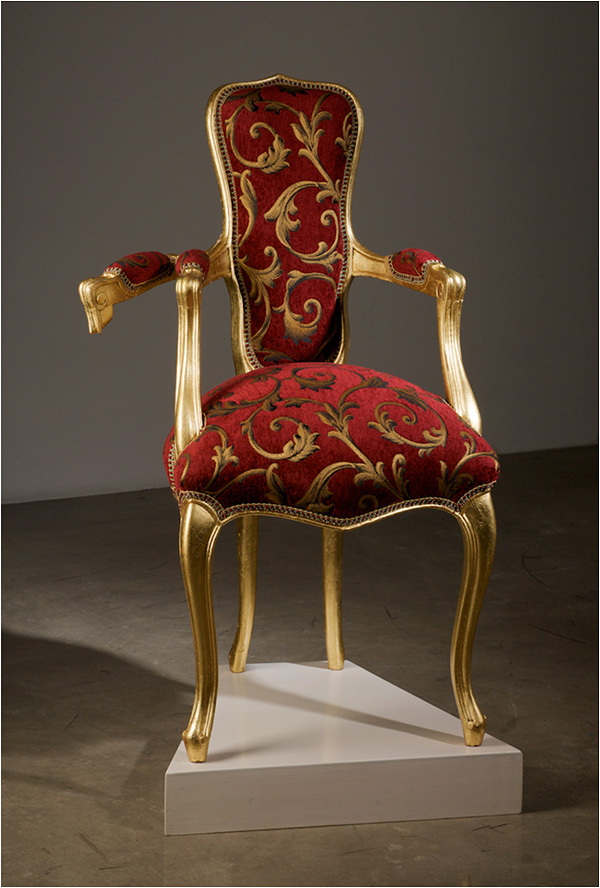 Alonso Mateo
Silla con un Brazo de Mas
2007
gilded wood and fabric
37 x 22.25 x 20″
Each chair available separately
For over a decade Alonso Mateo has focused his work on the analysis of the rites and symbols of power, the upper classes, aristocracy, and royalty. He is known among friends and colleagues as El Condo (the Count), a nickname given due to his appearance and manners that at times can be perceived as a perpetual complementary performance for his production of objects.
Mateo's gaze has examined and reevaluated the environments and phenomena inherent in the purchasing power of the upper classes, such as jewels, haute couture, and the ornament and appliqué work of precious metals in furnishings. The artist also comments on the genetic problems typical of royal families resulting from the practice of endogamy, marrying within your own class, social and ethnic group, for the sake of preserving a supposed purity of lineage. He approaches this subject with a refined and sarcastic humor, as seen in Silla con Pie Equino and Silla con un Brazo de Mas, two pieces of Imperial style furniture. These two chairs are presented as royal portraits; assembled with well-padded seat cushions, lavish upholstery, and carved and gilded wooden legs and framework. Silla con Pie Equino translates to 'chair with foot drop' or 'chair with Equinus', an ailment of the ankle limiting range of motion to bring the top of the foot toward the shin, resulting in a dropped foot. Silla con un Brazo de Mas translates to 'chair with one more arm'. These royal portraits point out the congenital deformations that can present themselves through the practice of endogamy; beautifully crafted pieces of furniture, created with the finest materials, with an unexpected flaw.
Expand to view Alonso Mateo's:
BIOGRAPHY
Cuban artist Alonso Mateo was born in 1964 in Havana, where he studied at the Instituto Superior de Arte. Mateo emigrated to Mexico and lived there until 1990. After a brief stay in Miami, Mateo moved to Las Vegas where he now lives and works. Mateo's works are conceived as representations of the pleasures and diversions of mass culture, capturing the essence of beauty, the ephemeral, and the heroic. His pieces are a synthesis of modernity and classicism: design, advertising, and poster art references seem to float on baroque backgrounds that recreate palatial tapestries. Alonso Mateo has exhibited in the United States and abroad, and his works are part of important art collections in England, France, Spain, Mexico, and the United States.
EDUCATION
Institute Superior de Arte (ISA), 1990, Havana, Cuba
EXHIBITIONS
SELECTED SOLO EXHIBITIONS
2010 Fishing Landscapes, Kavachnina Gallery, Miami, FL
2009 Apothecary Luxe, Kavachnina Gallery, Miami, FL
2009 Hispanic Heritage, Kavachnina Gallery, Miami, FL
2008 Bentley Gallery, Scottsdale, AZ
2008 The Cabinet of Dr., Farside Gallery, Miami, FL
2007 American Plano, Emma Molina Gallery, Monterrey, Mexico
2006 Portrait Length, Kunsthaus Gallery, Miami, FL
2005 pret-a-porter, Gomez Fine Art Gallery, San Juan, Puerto Rico
2004 Fashion, Dust Gallery, Las Vegas, USA
2004 Fashion Design, Space Odessa, Ricardo Reyes, Mexico, DF
2004 Unfortunately collector to visit the studio of the painter, Museum of the University of Guanajuato, Mexico
2003 Academy, Angel Romero Gallery, Madrid
2002 Alonso Mateo, Emma Molina Gallery, Monterrey, Mexico.
2002 Autumn Winter, OMR Gallery, Mexico City
2000 Painting Courtesan, Angel Romero Gallery, Madrid
2000 Familial Héritage, Metropolitan University Gallery, Mexico City
1997 New Paint Courtesan, Rosamund Felsen Gallery, Los Angeles, CA
1996 New Paint Courtesan I, OMR Gallery Mexico City
1994 Private collection, OMR Gallery, Mexico City
SELECTED GROUP EXHIBITIONS
2013 Gold Rush, Bentley Gallery, Phoenix, AZ
2008 Art is not life, Museo del Barrio, New York, NY
2007 Art Basel, Miami. Killing Time, Exit Art Gallery, New York, NY
2007 Ours, Contemporary Fine Art, Miami Arc Gallery
2007 Emma Molina, Spain, Arteamérica Fair, Miami, FL
2006 Collective painting, Kunsthause Gallery, Miami Arc Gallery
2006 Gallery Emma Molina, Spain
2005 O, The Games We Play, Frederic Snitzer Gallery, Miami, FL
2005 Scope Art Fair New York, Ricardo Reyes Gallery
2005 International Art Fair "ARCO", Angel Romero Gallery, Madrid, Spain
2004 Scope Art Fair Miami, Ricardo Reyes Gallery. Mexican Report, San Antonio, TX
2003 First Biennial Yucatan, Museum of Modern Art of Merida, Mexico
2002 Tamayo, Rufino Tamayo Museum, Mexico City, The Luxe, The Museum of Madrid
2000 Mexican Contemporary Art, Ludwig Museum, Budapest
2000 X Painting Biennial, Museo Rufino Tamayo, Mexico City
2000 Art Chicago 2000, Chicago, IL
2000 ARCO 2000, OMR Gallery, Madrid
1999 ARCO 99 OMR Gallery Madrid
1999 New Mexico Arts Plastiques Espace de Villefranche, Barcelonnette Musee de la Vallée, France
1998 ARCO 98, OMR Gallery, Madrid. IX Painting Biennial, Museo Rufino Tamayo, Mexico City
1997 Strength through joy, Poplar University Museum, Mexico
1996 ARCO 96, OMR Gallery, Madrid
1996 Art Chicago 96, Chicago, IL
1995 ARCO 95, Spain
1995 Continental Discourse, San Antonio Museum Of Art, San Antonio, TX
Please note: We respect your privacy and we will never sell, rent, lease or give away your information to any third party.

Subscribe To Our Newsletter
Receive the lastest artist and exhibition news from Bentley Gallery.