TONDO
Main Gallery Exhibition
Opening Reception: Friday, February 18, 6-8 p.m.
February 18 – May 21, 2022
Featuring: Louise Blyton, Andy Moses, Devorah Sperber, Jan Maarten Voskuil, and Jim Waid.
Breaking the convention of the rectangular canvas, this collection of contemporary abstract work is presented exclusively in the round! A traditional renaissance form, the tondo—a circular work of art—gained popularity in 15th century Italy when rounded architectural features were en vogue. Bringing this centuries-old practice into the present day with their own unique flair, the artists of "TONDO" reflect a large diversity of styles, mediums, and aesthetics. From hard-edge matte paintings to those of poured metallics, from spools of thread to shaped linen, this exhibition showcases a wide range of talented artists willing to break an almost cardinal rule of contemporary painting, proving also that history can indeed come full circle.
CADENCE
Main Gallery Exhibition
Opening Reception: Friday, December 17, 6-8 p.m.
December 17, 2021 – February 12, 2022
Famed jazz musician Count Basie once said, "If you find a note tonight that sounds good, play the same damn note every night!" The artists of "CADENCE" similarly extol the virtues of repetition. Across mediums of watercolor, fiber, steel, paint, acrylic plastic, and charcoal, each artist crafts distinct visual phrases that are then multiply iterated in form, tone, or motion to impressive effect. Through pattern, rhythm, and repetition, the anomalous is amplified and the artist's hand is brought back to fore.
SARAH BRODSKY'S RING
An Art Installation by Rick Levinson
Exhibition Dates: August 18th to October 9th 2021
Sarah Brodsky's Ring is a kinetic, multimedia installation featuring paintings on free-hanging linens, sculptural assemblage, and works on paper. Through text and visual narrative, guest artist Rick Levinson creates an experiential journey through time, across generations, anchored by the gravitas of one tragic artifact.
Annual Summer Exhibition
Exhibition Dates: July 2, 2021 – August 13, 2021
All of these works start by stopping us in our tracks. That happens when you see something worth looking at: an object or occurrence that is out of the ordinary, that arrests your attention, piques your curiosity, and makes you want to know more—while experiencing more and more.
Color Theory Exhibition
Exhibition Dates: January 15, 2021 – April 3, 2021
Bentley Gallery is pleased to present an exhibition by a group of notable artists who use color in distinctly unique styles to create a bold new vision. Artists include Jimi Gleason, Andy Moses, Nellie King Solomon, Jeremy Thomas, Jennifer Wolf and in The Project Room, Donald Martiny.
Annual Group Exhibition
Exhibition Dates: Sep 26, 2020 – Jan 9, 2021
Bentley Gallery invites you to our Annual Group Exhibition. We are showcasing a variety of mediums from our distinguished roster of artists. Come visit our spacious gallery as we rotate unique works of art throughout the span of the exhibit. Please check our website for updates on recommended guidelines for viewing work.
$2,500 x 18
May 22 – TBA, 2020
10% of sales will be donated to Artlink, an Arizona nonprofit organization.
More than ever, we all need to get lost in a work of art. In these times of necessary caution, the joy found in a sublime composition, an intuitive mark, a compelling idea, some luscious textures, a satisfying hard edge, or a surprising splash of color is essential to our well being. We've been staring at the same four walls for weeks and we can all use a meaningful shift in perspective.
Repetition
Showed: March 20th, 2020 – May 22th, 2020
Repetition was a two-person show featuring works by Peter Millett and Jeremy Thomas. Both artists are pragmatic in their artistic approach, adhering to a process-based practice that employ the use of recurring forms to create inspired sculptures. Millet constructs distinct structures through an additive process born from intuition and curiosity. Thomas inflates sumptuous metal shapes with pressurized air to bring them into full dimensionality. Each artist explores a geometric language of shape and space, underscored by a high degree of skill and imagination.
Pigment
Showed: January 17th, 2020 – March 14th, 2020
Pigment was a group show featuring works by Louise Blyton, Makoto Fujimura, Raphaëlle Goethals, Judith Kruger and Hiroko Otake. These notable artists delved into the exploration of color not merely as visual sensation, but its physical manifestation as raw pigment and all that it conjures.
The fact that color is not tangible tends to be overlooked. Our eyes detect light with wavelengths that bounces off objects, determining the particular color we see. This selection of artworks engages with the corporeal material that governs what we perceive as color. Whether it's the application of natural minerals to affirm our relationship with the earth or the vibrancy of pure pigment to accentuate form. Each of these artists utilizes the physical aspect of color to give meaningful insight into our visual faculty and beyond.
Natural Rhythms
Showed: November 15th, 2019 – January 11th, 2020
Natural Rhythms was a two-person show featuring work by David Kessler and Jim Waid. Both artists have explored the delicate wonder of nature for decades. Their work reveals a heightened sense of our desert environment through skilled mark making and exceptional technique. In these artists' masterful hands, one does not merely view the landscape; it becomes an experience.
Digital Process
Showed: September 20th – November 9th, 2019
Digital Process, was a two-person show featuring new works by Mike Jacobs and Travis Rice. These two artists highlight the shift occurring in art making today through the use of cutting-edge technology. They explore our post-digital world where instead of exclusively working with paint and canvas they integrate bytes and pixels. Both artists use digital tools to create exquisitely crafted works of art that cut through the visual noise of our everyday.
In the Absence of Color
Showed: May 17 – July 13th, 2019
In the Absence of Color was a group show that featured works by Bryan David Griffith, Daniel Brice, Robert Kelly, Ricardo Mazal, Udo Nöger, George Thiewes, Jeremy Thomas, Denise Yaghmourian, Judith Foosaner, and Chul Hyun Ahn.
After a successful Color Spectrum show, Bentley Gallery proudly presented In the Absence of Color as a counterpoint. We show works by artists that use a monochrome palette; in doing so we are able to focus on elements such as composition, value, gesture, and form. Whether a hard edge drawn with charcoal, a sprinkling of paint or built up residue from smoke, the restrained use of color is the unifying thesis.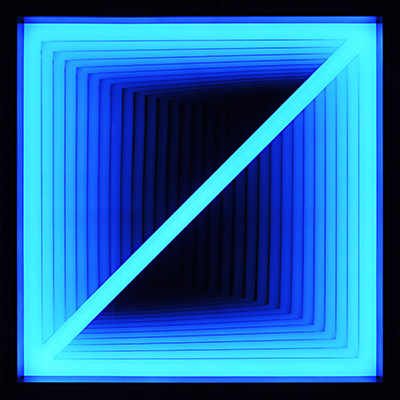 Color Spectrum
Showed: March 14 – May 11th, 2019
Color Spectrum was a group show that featured works by Chul Hyun Ahn, Dion Johnson, and Eric Zammitt. Working across disciplines including fluorescent lights, mirrors, and acrylic paint, the artists in this exhibition expanded our understanding of both the complexity and variant nature of color and how it operates within a two and three-dimensional surface. Making daring visual choices and utilizing a wide array of materials, these artists explored the tensions between content and materiality, symmetry and asymmetry and light and dark.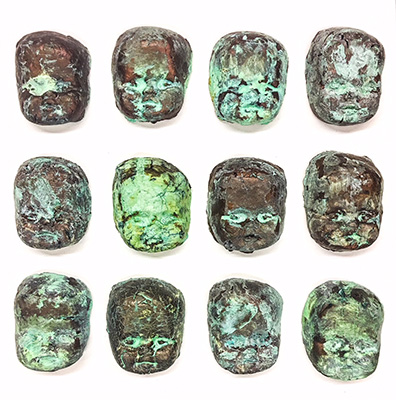 In, On & Of Paper
Showed: January 18 – March 9th, 2019
Bentley Gallery featured 22 artists who recalibrate the limits of the traditional paper surface, breaking boundaries and challenging preconceived notions of materiality.
Exhibitions From Previous Years
2018
Works on Paper, William Anastasi, Daniel Brice, Fernando Diaz, Jun Kaneko, Michael Marlowe, Udo Noger, Mark Pomilio, Travis Rice, George Thiewes
Out of 145 Degrees Fahrenheit, Michael David, Bryan David Griffith, Mitja Tusek, Hiro Yokose
Annual Summer Exhibition, Daniel Brice, Jimi Gleason, Leopoldo Cuspinera Madrigal, Michael Marlowe, Peter Millet, Udo Noger, Mark Pomilio, Devorah Sperber, Denise Yaghmourian
Objects of Memory, Denise Yaghmourian
A Deeper Season, Michael Marlowe
Selected Works, Devorah Sperber
New Works, Daniel Brice
Silver & Pearl, Jimi Gleason
2017
Symmetries, Mark Pomilio
Selected Works, Philip Moulthrop
The Inside of Light, Chris Gustin, Udo Noger
Merging Places and Moments, Leopoldo Cuspinera Madrigal, Peter Millett
Art on Paper, Daniel Brice, Dion Johnson, Hiro Yokose, George Thiewes, Bryan David Griffith
Abstraction in the Singular, Jonathan Apgar, Bill Dambrova, Kent Familton, Layne Farmer, Yvette Gellis, Rema Ghuloum, Rachel Goodwin, Audra Graziano, Jenny Hager, Dion Johnson, Michael Kindred Knight, Christopher Kuhn, Joe Lloyd, John Mills, Maysha Mohamedi, Ian Pines, Mark Pomilio, Max Presneill, Alison Rash, Byan Ricci, Travis Rice, Nano Rubio, David Spanbock, Marie Thibeault, Samantha Thomas, Chris Trueman
Non-functional Slack-fill, Jeremy Thomas
2016
Selected Works, Woods Davy, Tom Lieber
Terra Incognita, Jim Waid
Hello!, Leopoldo Cuspinera Madrigal, Jake Fischer, Stephen Knapp, David Kuraoka, Tom Lieber, Michael Marlowe, Udo Noger
New Work, Hiro Yokose
Off the Wall, Jonathan Cross, Mary Cary Horowitz, Peter Millet, Mark Pomilio, Devorah Sperber, George Thiewes, Jeremy Thomas, Yoram Wolberger, Denise Yaghmourian
Radiant Hues, Mala Breuer
Shifting Waterscapes, David Kessler
New Work, Matt Moulthrop, Philip Moulthrop
Mirror Mirror: Rare Photographs of Frida Kahlo, Luciene Bloch, Manuel Alvarez Bravo, Imogen Cunningham, Fritz Henle, Guillermo Kahlo, Leo Matiz, Nickolas Murray, Carl Van Vechten
2015
Luminous Trajectories, Dion Johnson
Survey: 12 Artists 3 Dimensions, Charles Arnoldi, Dominique Blain, Stephanie Blake, Jonathan Cross, Woods Davy, John Luebtow, Peter Millett, Mark Pomilio, George Thiewes, Jeremy Thomas, Yoram Wolberger, Denise Yaghmourian
Regularly Speaking, Charles Arnoldi, Stephanie Bachiero, Daniel Brice, Jonathan, Cross, Jimi Gleason, Robert Kelly, Peter Millett, Jill Moser, Jeremy Thomas, Jim Waid
Minimally Speaking, Stephanie Bachiero, John Luebtow, Matt Magee, Peter Millett, Mark Pomilio, Denise Yaghmourian
Bursting at the Seams, Jeremy Thomas
New York to Santa Fe, Mala Breuer
A Decade of Painting, Jill Moser
Blackout, Dominique Blain
2014
Selected Works, Enrique (Sebastian) Carbajal
Paintings, Eric Orr
Outside In, Judith Kruger
Paintings, Ricardo Mazal
Paper/Works, William Anastasi, Charles Arnoldi, Dominique Blain, Daniel Brice, Francesco Clemente, Dorothy Fratt, Robert Kelly, Ed Kienholz, Mark Pomilio, Jim Waid
New Works, Matt Moulthrop, Philip Moulthrop
New Works, Tim Bavington
Threshold, Jim Waid
Jun Kaneko, Black & White
2013
Gold Rush: Contemporary Art that Shifts Cultural Associations with the World's Most Treasured Metal, Lita Albuquerque, Olga de Amaral, Will Berry, Angelo Filomeno, Lawrence Fodor, Makoto Fujimura, Jimi Gleason, Martin Cary Horowitz, Jun Kaneko, Robert Kushner, Nancy Lorenz, Alonso Mateo, Eric Orr, Luis Gonzalez Palma, Andrew Schoultz
Anagama: Ceramic Works, Dan Anderson, Chris Gustin, John Hopkins, Matt Long, Don Reitz, Mat Rude
New Ceramic Works, Don Reitz
The Moulthrops: The Distinctive Work of Two Generations of Georgia Wood Turners, Matt Moulthrop, Philip Moulthrop
NeoChroma: A Contemporary Survey of the Use of Brilliant Color as Emphasis in Abstract Painting, Tim Bavington, Ali Smith, Daniel Brice, Oliver Arms, Jill Moser, Feodor Voronov
New Paintings, John Sonsini
Natural Order, Mark Pomilio
Camber, Jeremy Thomas
2012
Dangos, Heads, Paintings, Jun Kaneko
Western Zen, Woods Davy
California Paintings, Daniel Brice
2011
A Life in Clay, Don Reitz
New Paintings, Terrence La Noue
New Paintings, Jimi Gleason
2010
New Work, Matt Moulthrop, Philip Moulthrop
Small Works, Catherine Courtenaye, Rachel Darnell, Lawrence Fodor, Colette Hosner, Jun Kaneko, Louis de Mayo, Bobby Silverman, Jeremy Thomas, Ellen Wagener, Denise Yaghmourian, Hiro Yokose, Lucinda Young
No Better Place, Thomas Skomski
Altered Narratives in Stoneware & Porcelain, Ryan Mitchell
Ceramics, Ah Leon
Mechanisms of Life Unwinding, Pete Deise
American Landscapes, Louis DeMayo
Recent Painting, Michael David
2009
colLABORation (with DOSE), Hector Ruiz
Extra Time, Klaus Rinke
American Fictions, Rogelio "Gory" Lopez
Sea of the Unseen, Cristina Kahlo
Selected Works, Keith Haring
2008
New Works, Tom Waldron
Eden's Edge, Ellen Wagener
New Paintings & Site-Specific Installation, Pat Steir
Emergent Features II, Carrie Seid
L'art m'emmerde j'ai participle 'a cette expo, Hector Ruiz
Silent Metronome Series, Sammy Peters
Illusion & Fantasy, Alonso Mateo
Temporary Current, Gustavo Acosta
Au Courant, Rocio Rodriguez, Michael Todd, Laura Bell, Richard Erlich, Patrick McFarlin, Jill Moser, Jerome Powers, Robert Brady, James Marshall, John Rose, Walter Marton and Paloma Munoz, Charles Arnoldi, Robert Flynn, Nellie King Solomon, Zoe Hersey
New Photographs, Tom Baril
Relaciones, Jose Bedia
Thesmophoria, Simon Casson
Recent Paintings, Catherine Courtenaye
Intuitions: New Paintings, Willy Heeks
Snow Globes & Large Format Photographs, Walter Martin, Paloma Muñoz
2007
New Works, Charles Arnoldi
Monumental Sculpture from the Lexeme Series, Bill Barrett
The Pull of the Air, Will Berry
Selected Works, Thomas Brummett
Catalogue of the Iliad, Simon Casson
New Paintings, Bernd Haussmann
Heaven and Earth: Rare Chinese Jade Bi Discs and Cong Cylinders from the Neolithic Period
Tipping Point, Cynthia Innis
Memorable Selections, Jun Kaneko
New Paintings on Aluminum, David Kessler
New Paintings, Kathy Moss
New Paintings, Mark Rediske
Continuity, John Rose
New Sculptures, Hector Ruiz
7 Years of Graphics, Richard Serra
Selections from The Eye of the Artist: The Work of Devorah Sperber, Devorah Sperber
One Hundred Landscapes, Hiro Yokose
2006
Art 21: Art in the 21st Century (in conjunction with PBS), Laylah Ali, Eleanor Antin, Ida Applebroog, Cai Guo-Qiang, Ellen Gallagher, Ann Hamilton, Arturo Herrera, Oliver Herring, Roni Horn, Mike Kelley, Louise Bourgeois, Josiah McElheny, Matthew Ritchie, Susan Rothenberg, Jessica Stockholder, Hiroshi Sugimoto, Richard Tuttle, Fred Wilson, Kara Walker, Krzysztof Wodiczko
New Paintings, Diana Clauss
Grids, Kris Cox
Cantamar, Woods Davy
Grandeur Lost, Michael Eastman
New Paintings, Lawrence Gipe
New Works, Zoe Hersey
New Works, Robert Kelly
Naming Game, Jill Moser
Flower, John Nelson
Paintings on Aluminum, Patti Parsons
New Paintings, Sammy Peters
The Standard, Hector Ruiz
Silk & Copper Paintings, Carrie Seid
Found Objects, Joe Willie Smith
Wild Edges, Ellen Wagener
New Paintings, Emmi Whitehorse
A Life in Sculpture, Anthony Caro
2005
Retrospective: Paintings & Sculpture, Jennifer Bartlett
New Works, Dominique Blain
The Kenwood Series (in conjunction with the artist, Garth Clark Gallery, and Scripps College), Sir Anthony Caro
Aphrodite's Ceinture, Simon Casson
Chandeliers & Other Forms, Dale Chihuly
Configuration: Exploring Contemporary Interpretations of the Human Figure, Joe Biel, Collin Chilag, Carol Es
New Paintings, Cora Cohen
Modern Calligraphy, Catherine Courtenaye
Canto Rodato, Woods Davy
Horses, Michael Eastman
America, Michael Eastman
Small Drawings, 1945-1960, John Graham
Paintings, Bernd Haussmann
Paintings, James Havard
Madame Butterfly, Jun Kaneko
Paintings, Robert Kelly
American Landscapes, David Kessler
New Paintings, Gary Lang
Retrospective, Robert Longo
Frescoes, Marcia Myers
Vacancy, John Nelson
Large Scale Watercolors, Laurie Reid
Waterfall Paintings, Pat Steir
Electrified Installations, Peter Stainfield
The Cultivated Desert, Ellen Wagener
2004
New Paintings, John Alexander
Bentley Projects Grand Opening Exhibition, Jim Dine, Julian Schnabel, Jennifer Bartlett, Frank Stella, Robert Longo, Pat Steir, Dominique Blain, Vernon Fisher, Donald Sultan, John Chamberlain, Chuck Close, Deborah Butterfield, Louise Nevelson
Selected Works, Chuck Close
Cose Naturali: Italian Still Lifes from the 17th & 18th Centuries
New Paintings, Michael David
Swag, Angela Ellsworth
New Paintings & Collages, James Havard
New Landscapes, David Kessler
Retrospective, Terrence La Noue
Materia, Carrie Seid, Michael Bauermeister, Dale Chihuly, Michael Kessler, Matt Moulthrop, Philip Moulthrop, Kevin Irvin, John Nelson, Mark Rediske, John Rose, Bobby Silverman, Nancy Sansom Reynolds, Don West
Selected Works, Forrest Moses
Encaustic Works, Shigeru Oyatani
New Works, Patti Parsons
New Ceramic Paintings, Bobby Silverman
Steel Furniture, Thomas Tuberty
Terrain, Ellen Wagener
New Paintings, Hiro Yokose
Familiar Terrain, Diana Clauss
2003
Affordable Housing: Designing an American Asset (in conjunction with Stardust Center for Affordable Housing and the National Building Museum)
Rewind, Michael Anderson
Paintings & Monotypes, Will Berry
Cuba, Havana Interiors, Michael Eastman
I Could Hear the Wilderness Listen, Gary Komarin
Works on Paper, Martin Mull
Collages, Andrew Young
Bordering Gaze, Diana Clauss
2002
Data Streams, Mary Bates
Space, Cora Cohen
Contemporary Narratives, Radcliffe Bailey, Simon Casson, Lawrence Gipe, Maverick Gonzales, Julie Heffernan, John Walker, Carrie Mae Weems
Concentric Episodes, Kris Cox
The Cultural Desert (In conjunction with the Mayo Clinic Scottsdale, SMoCA – the Scottsdale Museum of Contemporary Art), John Buck, Alexander Calder, Jim Dine, Barbara Hepworth, Robert Longo, Louise Nevelson, Dennis Oppenheim, Lucas Samaras, Joel Shapiro, Frank Stella, Lynda Benglis, John Chamberlain, Vernon Fisher, Dan Flavin, Mel Kendrick, Maya Lin, Richard Long, Louise Nevelson, Claes Oldenburg, James Turrell
New Works, Michael David
New Sculpture & Paintings, Jim Dine
Selected Works, Julie Heffernan
Nocturne Series, Robert Kelly
Selected Works, Tom Ortega
New Paintings, Shigeru Oyatani
Signals, Matt Baumgartner, Diana Clauss, Tom Ortega, Ruth Pastine, Otto Rigan, Steve Rodin, Hiro Yokose
Portraits, Hiro Yokose
2001
Oil Paintings, John Alexander
Bronze Works of Art, Mary Bates
C-Print Photographs from the Satisfaction Series, Sara Carlson
New Paintings, Simon Casson
Silver Gelatin Prints & Site-specific Installation, Petah Coyne
Monuments to the Human Condition, Sculpture + Paintings, Jim Dine
Selected Works, Vernon Fisher
New Sculptures, Jun Kaneko
Embroidered Works, Angela Lim
New Works, Martin Mull
Selected Works, Tom Ortega
Works from 1943-1992, Judith Rothschild
Selected Works by Andy Warhol, Andy Warhol
New Paintings, Hiro Yokose
2000
Bronze Sculpture, Mary Bates
Social & Political History, Dominique Blain
Greek Goddesses, Simon Casson
New Works, Diana Clauss
New Paintings, Tony de los Reyes
Paintings (in conjunction with the Estate of Herbert Ferber and Knoedler & Company), Herbert Ferber
Numinous Duochrome, Ruth Pastine
Selected Works, Otto Rigan
New Sculpture, Tom Waldron
Small Encaustic Paintings, Hiro Yokose
1999
Selected Works, John Beerman
Epitome, Simon Casson
New Encaustic Paintings, Michael David
Paintings 1938 – 1973 (in conjunction with the Adolph and Esther Gottlieb Foundation and Knoedler Gallery), Adolph Gottlieb
Expedition Yellow Violet, Ruth Pastine
New Sculpture, Otto Rigan
1998
New Works, Sara Carlson
New Paintings, Simon Casson
New Paintings, Cora Cohen
MKMFSC, Kris Cox
Paintings, Helen Frankenthaler
New Ceramic Sculptures, Jun Kaneko
New Works, Martin Mull
Selected Works, Harvey Quaytman
New Paintings, Pat Steir
New Large Landscapes, Hiro Yokose
New Encaustic Paintings, Hiro Yokose
1997
New Paintings, Michael David
New Works, Robert Kelly
Detours & Destinations, Martin Mull
New Works, Tom Ortega
Works in Wax, Hiro Yokose
1996
Selected Works, Lee Friedlander
New Works, Martin Mull
New Works, Jennifer Bartlett, Vernon Fisher, and Martin Mull
New Works, William Christenberry, Axel Hütte, Andres Serrano

1993
Nature Takes a Leap, Emmi Whitehorse
1991
New Works, Hiro Yokose
Please note: We respect your privacy and we will never sell, rent, lease or give away your information to any third party.

Subscribe To Our Newsletter
Receive the lastest artist and exhibition news from Bentley Gallery.