Color Theory Exhibition
Exhibition Dates: January 15, 2021 – April 3, 2021
Bentley Gallery is pleased to present an exhibition by a group of notable artists who use color in distinctly unique styles to create a bold new vision. Artists include Jimi Gleason, Andy Moses, Nellie King Solomon, Jeremy Thomas, Jennifer Wolf and in The Project Room, Donald Martiny.
Furthering the dialogue within contemporary abstraction and its inescapable relationship with color, these artists prove that what color can convey is boundless and sure to captivate. Whether it's Gleason's use of lush, reflective material to accentuate the surface, Solomon's gestural marks made with custom tools, Moses' process driven hue amalgamations, Thomas' sculptural color motifs or Wolf's pure pigment experimentations, the use of color is essential in their practice and self evident in the work.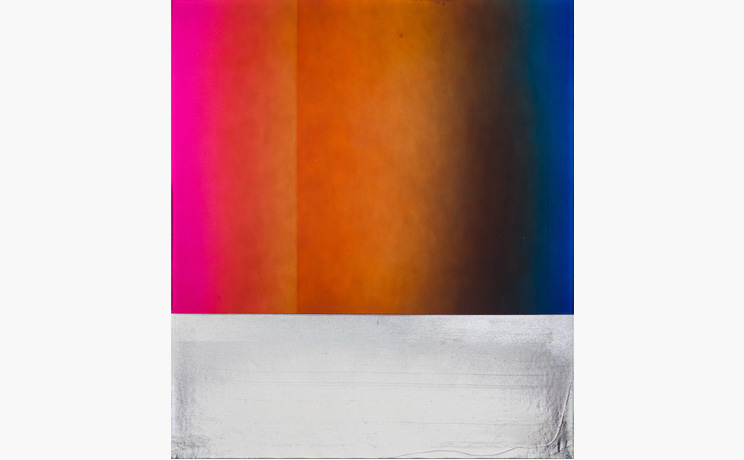 Jimi Gleason | JG 46 | silver deposit, acrylic on canvas | 32 x 28 x 1.5 inches | 2020
The surfaces of Gleason's paintings have always responded to both the light and space of the environment they are in. Working with shimmery pearlescent paint and silver deposit, he carefully builds up layers that shift subtly. Many of his works feature densely worked edges framing largely vacant centers, to keep the focus firmly on the quality of the color and light and on the viewer's own perception of them.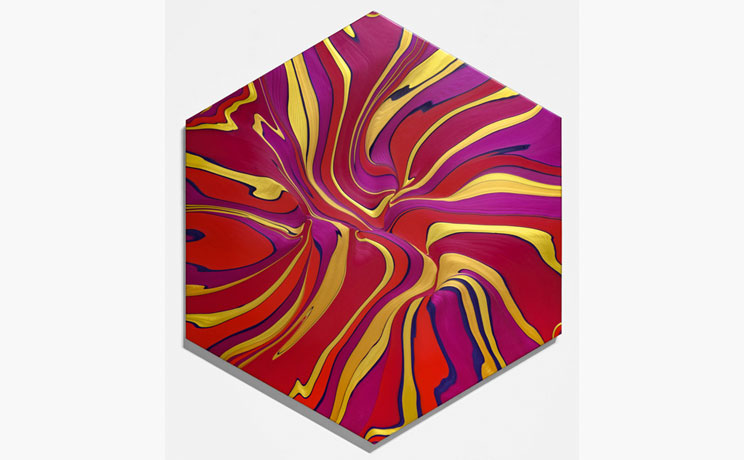 Andy Moses | Geodynamics 1218 | acrylic on canvas, over hexagonal shaped wood panel | 60 x 72 x 2 inches | 2020
Moses has developed a type of process painting that is simultaneously abstract and representational. Moses is interested in pushing the physical properties of paint through chemical reactions, viscosity interference, and gravity dispersion to create elaborate compositions that mimic nature and its forces.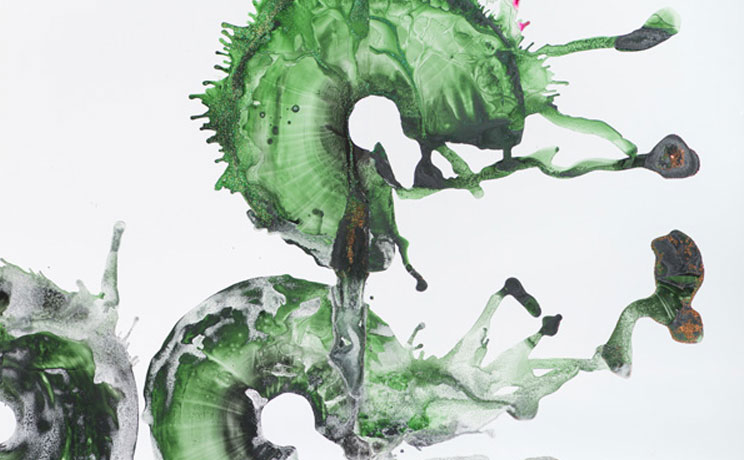 Nellie King Solomon | Spirulina – Hookers Green Rings 1 | acrylic, soda ash, and christalina, Mylar mounted to aluminum | 96 x 96 x 1.5 inches | 2010
Solomon approaches painting with equal parts irreverence and admiration. In lieu of canvas and brushes Solomon paints on the sharp industrial material of Mylar using custom wood and glass tools for pulling the paint in sweeping, gestural marks. Iconic abstract elements, bold colors, and unusual materials, like asphalt, swirl about, captivating the senses and revealing the tension between spontaneity and rigor at work in her practice.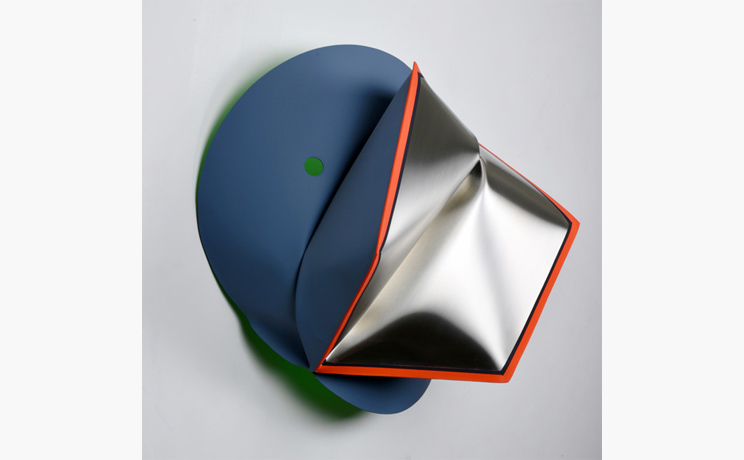 Jeremy Thomas | Phenol Red | stainless steel, vinyl emulsion | 23.5 x 22.5 x 13 inches | 2021
Thomas' sculptures are made of steel; cut, welded, and folded into geometric shapes. The metal is heated to well over 2,800 degrees Fahrenheit at which point the metal becomes as supple and elastic as clay. Thomas then inflates the forms with air; here chance comes into action as metal and air interact. The final pieces are powder-coated in slick colors sourced from industrial manufacturers that complement and contrast with the surface of stainless steel.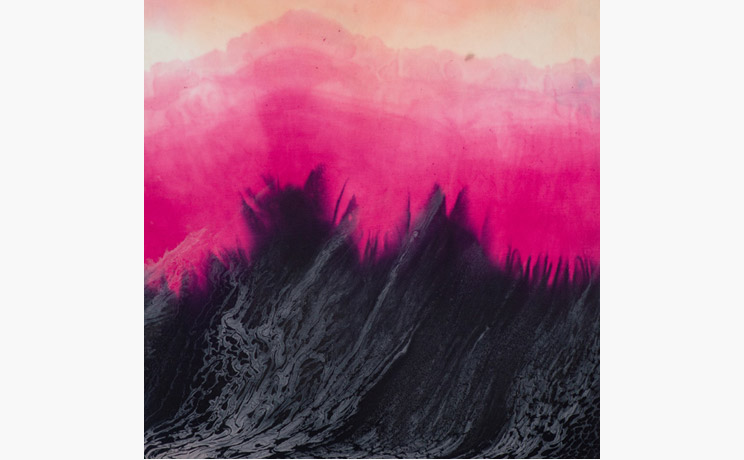 Jennifer Wolf | Dye Painting #7 | alum mordant, logwood, cochineal, mineral pigment, silk on canvas over panel | 20 x 20 x 1.5 inches | 2020
Wolf is interested in the complex nature of relationships between a particular medium and the image it communicates. The process of mining her own pigment sources including Iron oxides, copper oxides, calcium carbonates and carbon has taken her to locations such as France, Peru, Brazil, North Africa and her hometown of Ventura, California. The reconstitution of these site-specific minerals into a painting medium is one of the ways in which she communicate ideas about history, nature, and the craft involved in her own artistic production.
The Project Room: Donald Martiny
Donald Martiny has been called a gestural abstractionist. He does not paint on conventional canvases or rectangular compositions, instead he crafts giant brushstrokes that captures the act of a spontaneous gesture. The results are sculptural abstractions that asks us to reconsider our notions of painting.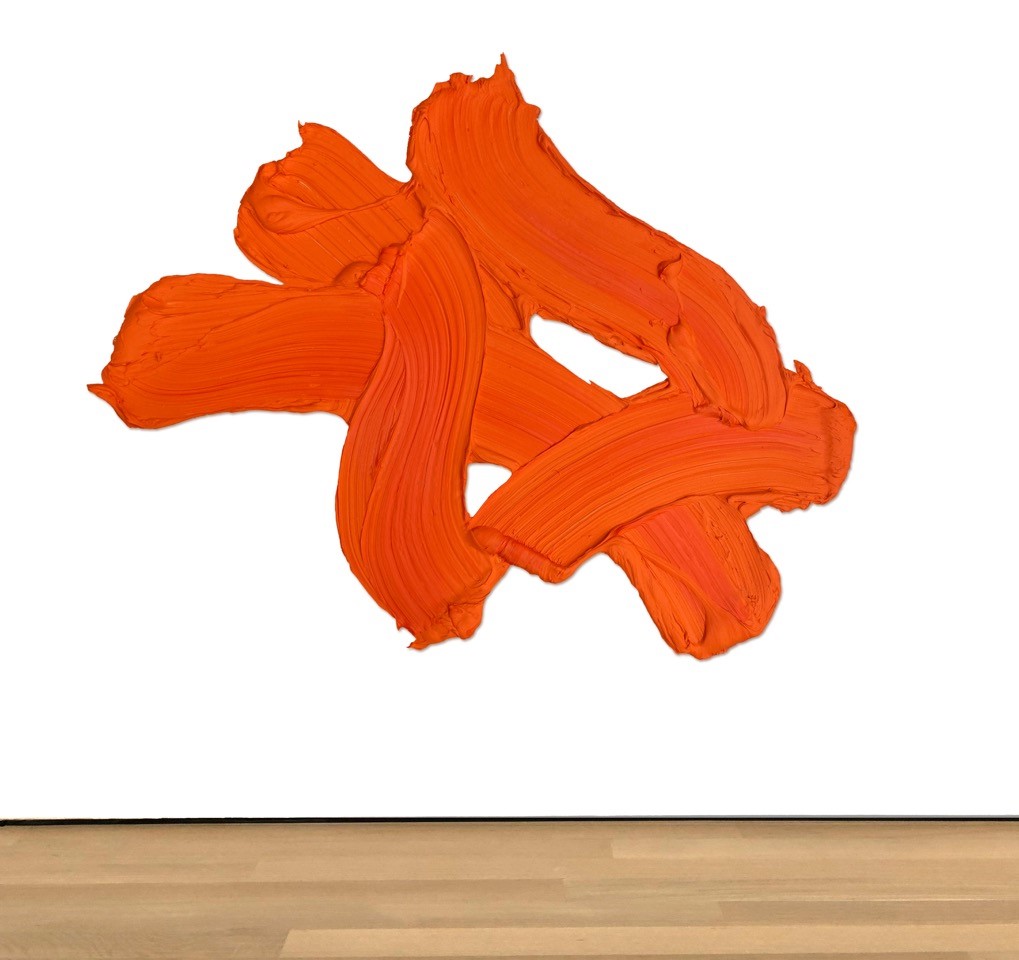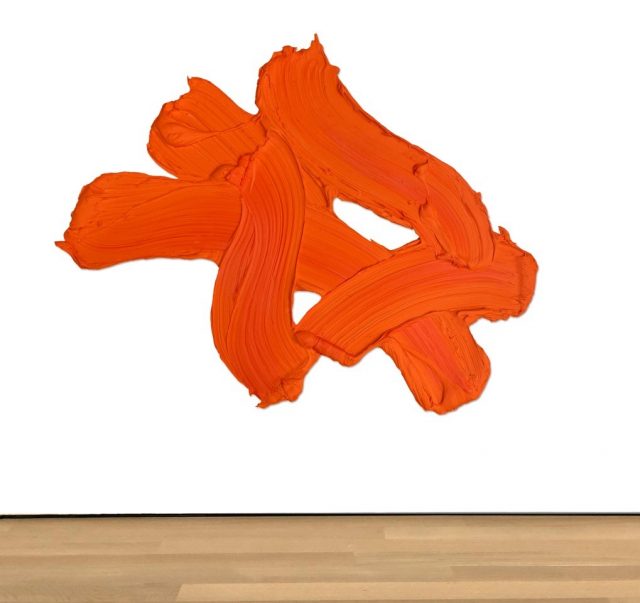 Donald Martiny | Hamatsa | polymer and dispersed pigment on aluminum | 60 x 77 x 3 inches | 2021
Please note: We respect your privacy and we will never sell, rent, lease or give away your information to any third party.

Subscribe To Our Newsletter
Receive the lastest artist and exhibition news from Bentley Gallery.