Color Spectrum
March 14 – May 11th, 2019
Eric Zammitt is currently on show in Color Spectrum, a group show featuring works by Chul Hyun Ahn, Dion Johnson, Eric Zammitt and Travis Rice. Working across disciplines including fluorescent lights, mirrors, and acrylic paint, the artists in this exhibition expand our understanding of both the complexity and variant nature of color and how it operates within a two and three-dimensional surface. Making daring visual choices and utilizing a wide array of materials, these artists explore the tensions between content and materiality, symmetry and asymmetry and light and dark.
Drawing from an art historical precedent that loosely alludes to the Color Field painters and Light and Space artists, Eric Zammitt, creates large-scale sculptural "paintings" using colored pieces of acrylic plastic that are glued together, sanded, laminated and polished to a luminous high gloss shine. His work exemplifies a charged energy in much the same way that Mark Rothko's work testified to the enigmatic life of the spirit. Like Rothko, Zammitt apprehends both light and space as a way to invoke atmosphere and to celebrate the mystery inherent in the creative process, exploring both its dynamism and complexity. The results are visually layered works that straddle the mediums of both sculpture and painting, posing questions about the interplay of dual elements—matter/energy, spirit/body form/function—and how these elements operate in concert.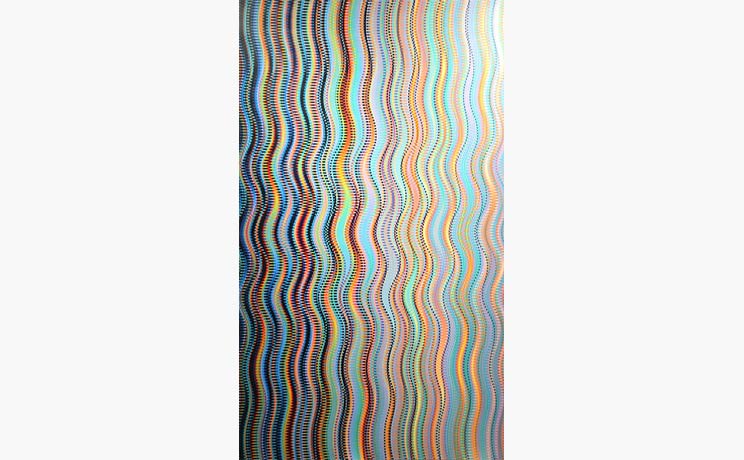 Eric Zammitt
Untitled (vertical)
Laminated acrylic plastic
94 x 53.5″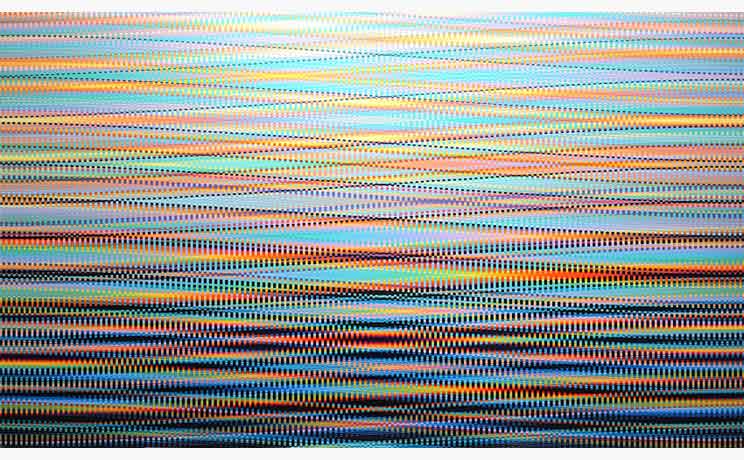 Eric Zammitt
Untitled (horizontal)
Laminated acrylic plastic
54.5 x 94″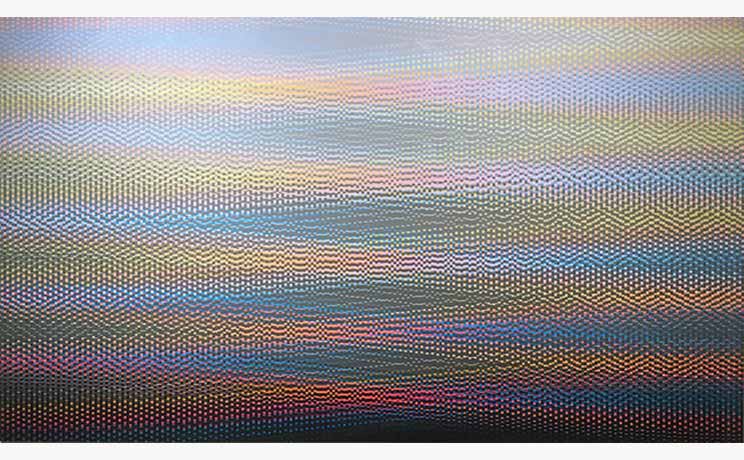 Eric Zammitt
Grey Spectral Nocturne III
Laminated acrylic plastic
53 x 92″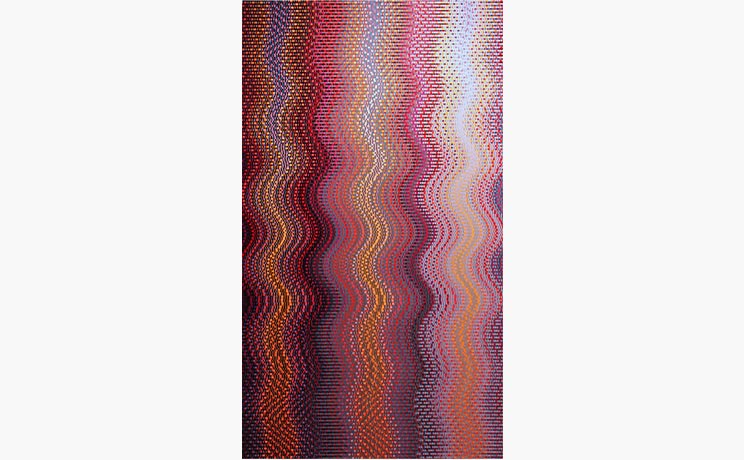 Eric Zammitt
Electric Moroccan II
Laminated acrylic plastic
91.5 x 49.5″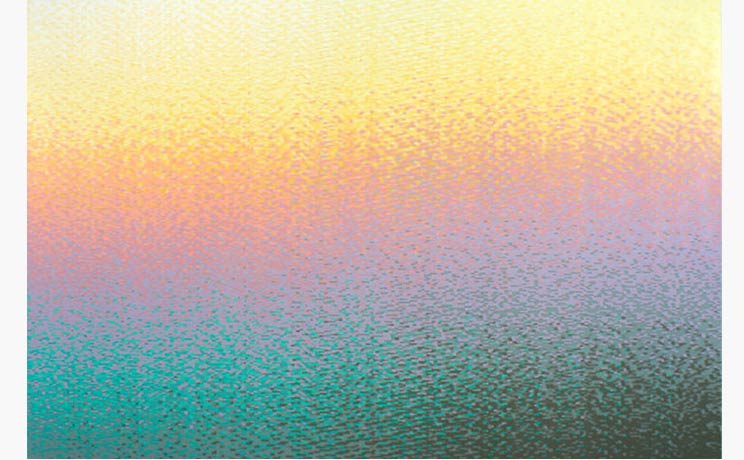 Eric Zammitt
Eastern Gloaming
Laminated acrylic plastic
50 x 74.5″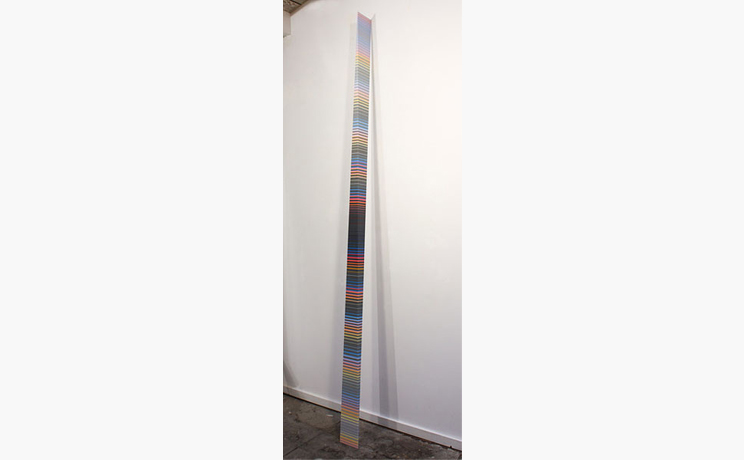 Eric Zammitt
Spirit Canoe / dark center
Laminated acrylic plastic
111.75 x 6 x 6″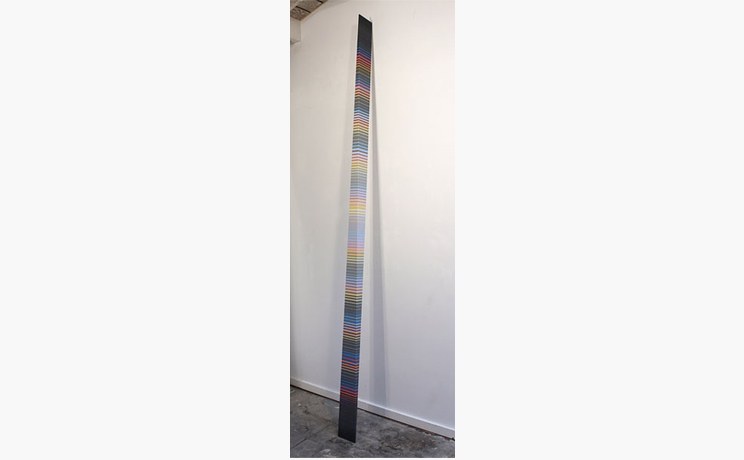 Eric Zammitt
Spirit Canoe / light center
Laminated acrylic plastic
111.75 x 6 x 6″
Expand to view Eric Zammitt's:
My work alludes to the dynamics and interplay of dual elements; matter/energy, spirit/body, emotion/intellect. It is simultaneously about our Gestalt experience of the drama and beauty of creation, and our intellectual fascination with its parts and how they relate to create a whole.

One of the ways I find of expressing this interplay is by compounding complexes of patterned color into synergistic wholes. Color and pattern are primal to our history and survival. They touch parts of us that are archetypal, rooted in nature, and infinitely curious. I employ abstraction and minimalism as ways to bypass the literal and go directly to metaphor, emotion, and the ineffable. At the same time, like classical music, which integrates intellect and emotion, the works are based in structure, rhythm, and a form of logic.

The works are often associated with energy fields, music, quantum and string theory, weaving, land and seascapes, genetics, etc.

These "paintings" are made of tens of thousands of solid bits of colored acrylic plastic glued together, sanded and polished. They are laminated into cohesive panels through an intensive process of layering, slicing, and reassembly. This process is followed by wet-sanding and polishing.

For me, colored acrylic plastic is simply paint, but in solid form, and my "brushes" are the bandsaw, table saw, and glue.
SOLO EXHIBITIONS
2016 Eric Zammitt: Radiation, Scott Richards Contemporary Art, San Francisco

GROUP EXHIBITIONS
2019 Felt Before Seen, FP Contemporary, Culver City
2018 Gallimaufry, FP Contemporary, Culver City
2018 Incarnadine, Mash Gallery, Los Angeles
2018 Incarnadine, Coagula Curatorial
2018 "Splash" Summer Group Show, FP Contemporary, Culver City
2016 Group show at Camerich LA, D2 Art, Inglewood
2015 Re-Op: 'The Responsive Eye' Fifty Years After – Visual Perception Today, David Richard Gallery, Santa Fe
ART FAIRS
2014 David Richard Gallery at Dallas Art Fair 2014, David Richard Gallery

PRESS
Art Ltd. Magazine, March 2013 – Eric Zammitt: "Material Distillation" at David Richard Gallery – Jon Carver
Visual Art Source, January 11, 2013 – Editorial Recommendations – Iris McLister
THE magazine, Sept. 2009, Article, "On the Radar, Seventeen Artists You Should Know About" – Peter Frank
Los Angeles Times, Nov. 11, 2005, Review, "Do these small bits add to a whole?" – Christopher Miles
Los Angeles Times, July 2, 2004, Review, "Delight Is In The Details" – David Pagel
Please note: We respect your privacy and we will never sell, rent, lease or give away your information to any third party.

Subscribe To Our Newsletter
Receive the lastest artist and exhibition news from Bentley Gallery.